Double sided shelving also known as a Gondola provide the display of products and merchandise on both sides of the shelving system with either upper shelves, peg hooks or one of many accessories available for Gondolas.
---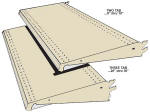 Upper shelves are constructed of all steel and basically the same as base shelves with a little mounting system. Available in depths of 8 inches to 30 inches and widths of 24 inches, 36 inches, and 48 inches.
---

Wire shelves are typically used to display, chips, candy, bread, and most any type of snack. As shown in the picture above the wire shelves are made of wire with a side bracket the same of a standard upper shelf.
---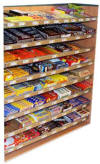 Browse a large selection of Candy Racks for a counter and your existing Gondola Shelving System.
---

Single sided Gondolas are typically configured for a wall and can be used as an End Cap for the end of a double side aisle of Gondola Shelves. The same components are used for double sided and single sided.
---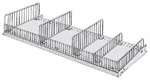 Upper and base shelves typically provide 4 rows of holes for fences and dividers. 2 rows in the front of the shelf and 2 rows of holes on the back of the shelf, 1 inch on center
---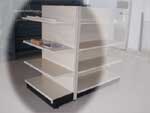 The most popular and affordable Gondola End Cap is configured with a standard single sided section with a back board on both sides of the fixture, that simply slides up against the end of a Gondola Aisle.
---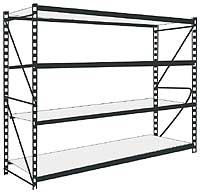 We have a complete line of Madix Pallet Racking with the Tear Drop style beam connection